Loomer History

Musicians:
Lynda Mandolyn, vocals, guitar, bass, 1994-?
Hugh Caley, guitar, bass, vocals, keyboards, 1994-?
Ginger Williamson, vocals, keyboards, 1994-1996
Mark Sawasky, drums, 1994
Chris Thornburg, guitar, 1994-1995
Debbie Michele, drums, 1995-1996
Serge Vladimiroff, guitar, keyboards, 1996-?
?? Drummer, drums, 1996
1994:
Lynda Mandolyn and Hugh Caley, taking a break after a Lickitty-Clit session, decided to start experimenting with what became known as shoegaze music.
We record the demo for Too Much Too Soon
We record the demo for Cry
We record the demo for Volcanoe ... we get excited and decide to start a live band.
Lynda invites Mark Sawasky (of the Immigrant Suns) to play drums. Mark re-records the drums for the early demos
Lynda invites Chris Thornburg to join to play guitar
Lynda invites her friend Ginger Williamson to join to sing backup vocals
The full group starts rehearsing at Mark's house
The group plays various Detroit-area bars, including Lili's 21, Paychecks, Alvin's, and more
Mark Sawasky quits
We invite Debbie Michele to join as new drummer
1995: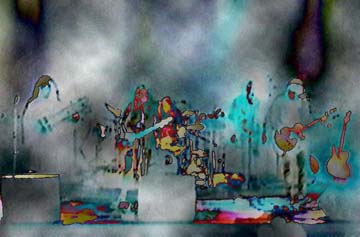 January: Our friends in the band Caelum Bliss invite us to open for them at St. Andrew's Hall, the largest independent music venue in Detroit. We do well enough that St. Andrew's invites us to set a date to headline our own show.
We decide to move the band to the San Francisco area to be closer to the music industry and expand our audience.
Chris doesn't want to move and quits
Serge Vladimiroff joins playing guitar
We play a few gigs, including a memorable show in the Mojave desert!
1996:
We record some new songs with Serge
We release our CD
Debbie quits to move back to Michigan
We stop playing live
2001(?):
We do another run of CDs for the Japanese market
2009:
We put up the 1994 demo songs on this website